I'm a lifelong Who fan, having seen them at one of the first American shows in New York.

I've read just about everything about them I can get my hands on, so this review for the Sun-Sentinel in 1999 was a natural.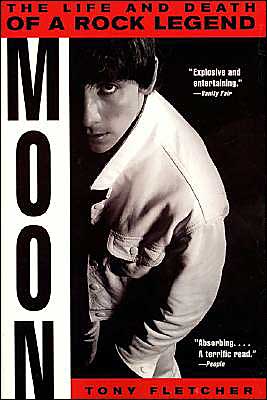 MOON: The Life and Death of a Rock Legend. Tony Fletcher. Spike. 608 pages.
BY RICHARD PACHTER

How many drummers in popular music ensembles are remembered 20 years after their deaths? How many are subjects of biographies, reminiscences and legends?

Now, when the majority of recorded percussion originates from computers instead of snares, tom-toms and cymbals, why does the abbreviated, brandy-soaked existence of a rock drummer matter? Tony Fletcher's massive new biography of Keith Moon, The Who's drummer, doesn't make much of a case for caring. It's strictly for fans with the stamina — and stomach — for this cautionary tale of success and excess.

A short, hyperactive child born into an otherwise unremarkable London working-class family in 1946, Moon impressed all with quick wits, brash manners and a profound inability to concentrate on schoolwork or other tasks. But when he discovered pop music and took up the drums as a teen, he also found himself.

After several short stints with semi-pro bands, he latched onto The Who — and completed them. They were an odd lot, even by early 1960s English rock standards. The guitarist was a pothead art student who regularly traded punches with the sullen singer, who was considered the group's sex symbol, but only by default. The bassist stood motionless at gigs as the others flew over the stage. Until Moon joined, the drum set was occupied by an older, incongruous — and clearly uncomfortable — gent. But Moon the Loon's histrionics were a better fit.

Moon's previous band, The Beachcombers, featured the young drummer's wild showmanship and attention-getting antics. Like Buddy Rich or Gene Krupa, the wild-eyed percussionist seized the spotlight. Moon could hardly bear it when the band went into a cover version of a current hit ballad, so he tossed his drum sticks, crossed his eyes, belched, pouted or crashed his cymbals for punctuation during soulful verses by the indefatigable crooner. The audience loved it.

Moon's audition for The Who is one of rock's great legends: He supposedly appeared at a gig in garish orange garb, hair bleached like a surfer's (or the London supposition thereof) and demanded the chance to sit in for their drummer, destroyed the drum set and was then hired on the spot. The tale's been told so many times that it's accepted as gospel. But author Fletcher insists that it's untrue. According to interviews with former bandmates and friends, Keith auditioned at a rehearsal hall and was offered the job a day or so later. Period. Fletcher also punctures other prevailing myths: Moon drove a car into a swimming pool on his 21st birthday; was banned from Holiday Inns for life; and even the drummer's purported year of birth (he was actually a year older).

Ample space is given to the claim that Moon was among the greatest rock 'n' roll drummers ever. Fletcher carefully makes the case. Though sonically dazzling, Moon never was a solid beat-keeper like Ringo Starr, Charlie Watts, Kenney Jones or other contemporaries. Indeed, Led Zeppelin's drummer John Bonham (another percussionist whose excesses hastened his premature demise) was far more proficient. But in The Who, Moon was almost a soloist — a lead instrumentalist — and no other drummer could do what he did, a fact proven by the inability of the aforementioned Jones to satisfactorily replace Moon after Keith's demise.

From London to L.A. and back to London, the ups-and-downs of Moon's life are recounted in painful detail. His outrageous sense of humor and flamboyant lifestyle provide entertaining anecdotes, but other than a few factual revelations, there's little new here. For hard-core Who fans, Fletcher's book is time well-spent. For others, an hour's documentary on VH1 will suffice.

published 2/24/99 in the Sun-Sentinel